Renal Cell Carcinoma Survivor
RCC Survivor Speaks from Experience at the Helm of Kidney Cancer Association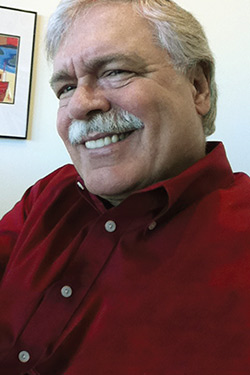 The Kidney Cancer Association (KCA) was founded in 1990 by a small group of patients and medical doctors in Chicago. As the world's first international charity dedicated specifically to the eradication of death and suffering from renal cancers, it is also by far the largest organization of its kind, serving more than 70,000 people in 102 countries—and it has a renal cell carcinoma (RCC) survivor at the helm.
William "Bill" Bro was initially invited to serve on the KCA board of directors by one of the organization's founders and its first chairman: Eugene P. Schonfeld, PhD. Bill accepted and served on the board for several years before eventually succeeding Eugene – who passed away from RCC – as chairman of the organization. Later, Bill assumed the duties of chief executive officer after retiring from business in 2002.
Like Eugene, Bill fought his own battle with RCC. In 1989, while his wife, Johanna, was pregnant with their second child, Bill was diagnosed with RCC. He saw some blood in his urine while out to dinner with some friends who were visiting from Europe, so he drove himself to the hospital to get it checked. Once there, he passed out in excruciating pain. The next day he received the cancer diagnosis, which weighed heavily on both him and Johanna. They were determined to conquer it, however, so Bill could be around for his young family.
Bill and Johanna's first step was to find a new urologist. Bill's first – the one who had provided the initial diagnosis – had a less-than-desirable bedside manner and in fact told Bill at the hospital: "You can only get a fatal disease once." Bill fired him on the spot and began the search for other experts.
Bill eventually found a new urologist, and during the week of Christmas 1989, he was successfully treated by a radical nephrectomy. His recovery from the surgery took about six weeks, and it required the help of family and friends because his mobility was limited and he couldn't drive. After about eight weeks, Bill was able to return to work full time.
Through everything, Bill's family was very supportive. They provided some necessary financial assistance, and his siblings helped him manage his business affairs. Currently, Bill and Johanna live in Hubbard Woods, Ill., a suburb of Chicago, and their two children are now grown.
Bill encourages all newly diagnosed RCC patients to contact KCA to gain access to the latest information about diagnosis and treatment. The organization is made up of patients and their family members as well as physicians, researchers and other health professionals from around the world. It funds, promotes and collaborates on research projects with the National Cancer Institute, the American Society of Clinical Oncology, the American Urological Association and other institutions. In addition, KCA works to educate families and physicians and serves as an advocate on behalf of patients at the state and federal levels in the United States and globally. The organization encourages all patients facing an RCC diagnosis to build a support network and lean on resources like the KCA—because you are not alone.