Multiple Myeloma Survivor
Battling Cancer With Determination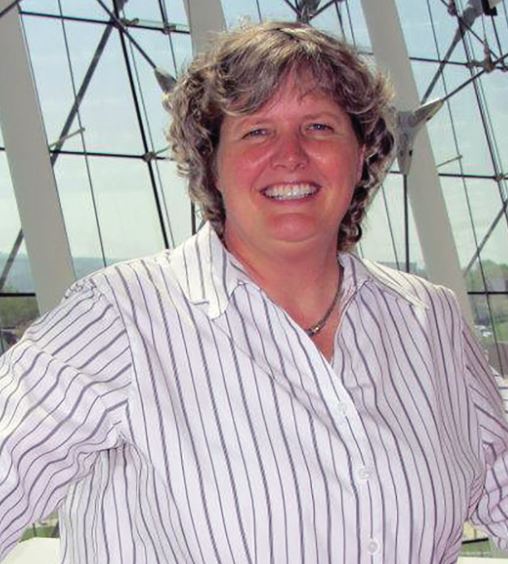 As a mother of three children, Shannon Humphrey led a very active life full of family, work and sports. After her back "gave out" and her doctor dismissed her pain, she sought other opinions that eventually led to her diagnosis of Stage III multiple myeloma. She was only 45. Throughout many rounds of chemotherapy, she was able to lean on her family, children and long-term partner to keep her spirits high and her attitude positive.
In the late 1990s, I had intermittent back and hip pain that worsened over time. I brought the pain up to my doctor many times, but he dismissed it as general wear and tear. On September 11, 2010, my back "gave out" on me. Even then, my doctor would not agree to an X-ray. My boss suggested that I see her chiropractor. After a few sessions, the chiropractor told me that he thought I had a spinal issue that required immediate attention from a medical doctor. That afternoon, I switched medical doctors to a new intern. She was able to get me in the next day. I met with her one afternoon, had an MRI the next morning and, while I was driving home, received a phone call from the doctor and was asked to return immediately with someone else. So, my mom and I headed back, and I learned that I had cancer.
I had recently had an abnormal mammogram, so I thought it must be breast cancer. I called a friend who had breast cancer, and she helped me contact a doctor at a local cancer center. Around Thanksgiving, after the initial tests were run, it was thought that I had Stage IV breast cancer. It was not until Christmas time that my actual diagnosis was found — Stage III multiple myeloma.
I was completely shocked. I have been incredibly active my entire life. I was never a smoker. I thought my back and hip pain were simply due to a life of very active living. When I was first diagnosed, I started radiation therapy and chemotherapy.
I also had three stem cell transplants — autologous transplants in 2011 and 2012, and an allogeneic transplant in 2013. My sister was my donor. During my transplants, I took several medications, and now I am only taking a medication to help prevent shingles.
In addition to my treatments, I attended a local support group for people with multiple myeloma. I only looked up information online a few times. When I did, it was usually a terrifying mistake. Once I discovered the International Myeloma Foundation, I only went to that site and sites it recommended, like the Leukemia & Lymphoma Society.
I had some pretty severe side effects, but I was able to get through them all. One drug I took would cause me to stay awake for days at a time and hallucinate. I remember one time when I was hospitalized with pneumonia, a very sweet nurse would come into my room in the middle of the night and step on the "spiders" that I was certain were crawling across my floor. One of the medications I took caused neuropathy. I was unable to button my shirt or do other fine-motor activities. I was allergic to one of my medications, but because it was the drug of choice, I continued taking it with an allergy medicine. My scalp became incredibly itchy and I would get a deep red rash on my head and face. Prior to transplants, many of the chemotherapies were given through an IV. I became very nauseated and would throw up just by switching positions in my bed. I still have neuropathy in my feet. Fortunately, I do not have pain, just numbness.
I am 100 percent confident that I am here because of my family and friends. My mom has been my caregiver throughout. My brother, sister, parents and partner completely stepped up to take care of my children when I was unable to do so. My coworkers at my local school district have been very supportive and flexible. The local multiple myeloma support group has been a tremendous help and a fabulous source of information.
To others going through this, I can offer these suggestions. Seek treatment immediately. Do exactly what your doctors tell you to do and report to them any issues you are experiencing immediately, even if it is a stuffy nose. Stay positive. Surround yourself with positive people who will support you and ease your burden. Don't go to the Internet to search all sites. Find out the one or two best sites and stick with them. Don't focus on the negative things; focus on the good.
Know that everything is temporary, including your life. What you are experiencing, even if it is hard, is still your life. Live it to the best that you can possibly do. Be kind. Be gracious. Remember, every single day, people much smarter than you and me are working tirelessly to find a cure for this cancer. A cure is definitely in our lifetime, and even if a cure is not found in the next few years, new treatments are being discovered all of the time. Surround yourself with people who love and support you, and simply try to do your best each day.