Multiple Myeloma Survivor
No Time For Negativity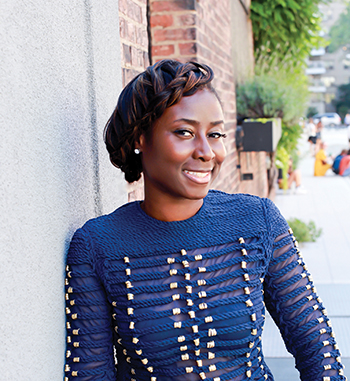 Yolanda Brunson-Sarrabo tells people diagnosed with multiple myeloma to prepare for a marathon, not a sprint. Diagnosed at 38 with a cancer that more often affects men over 70, Yolanda didn't fit neatly into the statistics. Now in remission, her goal is to raise awareness, especially within the African-American community.
Staying on top of my health checkups has always been a priority. It was after one of these that my myeloma was detected. I had an annual physical two weeks before my husband and I planned to vacation in Mexico. When my doctor called me on a Sunday night to discuss the bloodwork, I was surprised.
He said my protein level was high, but he didn't specify which one or how that affected me. He wanted me to see a hematologist. I figured I'd look for one after I got back from vacation. But right before we left, he called me again. The urgency in his voice scared me. I searched from a list of approved providers and contacted one before the trip.
That hematologist was not accustomed to treating younger patients. The people in the waiting area looked to be in their 70s and 80s. I felt very out of place.
A bone marrow biopsy confirmed myeloma. At the time, it was common to treat myeloma with a drug that would potentially cause birth defects. But I was only 38 and still wanted to have children. He sent me and my husband home with a video explaining the possible side effects. They were frightening, and I felt this was a huge red flag. I knew right then I wanted a second opinion.
My gynecologist recommended a different hematologist at a well-known hospital in another state. After reviewing my tests, he said I had smoldering myeloma. He recommended watchful waiting until it became active. Because he planned to retire, he referred me to a specialist in New York, which was closer to home.
For five years, I went to the New York hospital once a week to have my blood drawn and make sure the myeloma was inactive. Although I remained asymptomatic, one imaging test showed calcification of my sternum that we treated with radiation therapy. Otherwise, my health was good until an unrelated problem developed that required surgery. Once I recovered, my protein level spiked, indicating I had progressed to active multiple myeloma and needed to start treatment.
My doctor started me with a three-drug regimen that included targeted therapy, a steroid and an immunomodulator. At the same time, my doctor wanted to be prepared in case I would need a stem cell transplant in the future. He thought it would be best to harvest my cells sooner rather than later. This required daily self-administered injections into my stomach for a week to ramp up cell production for harvest. I was skittish about needles and so was my husband. The first few injections were humorous because we both wanted the other person to do it. Otherwise, I got my bloodwork checked weekly and went on living my life.
Although my protein levels dropped with the treatment, my doctor wanted them lower. I had a busy, high-stress job in the fashion industry and I didn't want to slow down, so he agreed to let me stay on the same regimen.
Once I left my job, we took a more aggressive approach and switched to a new targeted therapy that required weekly infusions, which meant staying in the hospital for up to three hours.
A little more than a year later, my protein levels dropped to zero. After staying at zero for a year, the doctor gave me a choice of staying with the regimen or stopping just the targeted therapy. I kept the same regimen.
Because no myeloma could be detected, later that year, I was slowly taken off the medication. Now, I'm considered to be in remission. One side effect that remains is high blood pressure, but I take medicine for it and see a cardiologist.
In the beginning, I was a mess emotionally. I asked the typical questions: "Why me?" and "Why right now?" Throughout the process, my family and especially my husband have been wonderful sources of support. And over time, I think this experience made me stronger. While in treatment, I focused on a career change and got certified as a personal fitness trainer.
I tell others that it's okay to cry and be emotional. But when that's done, it's time to fight. There's no time for negativity, whether it's with people or your attitude. So once the crying is done, you must be at the top of your game and prepare for a long fight.
Giving back and educating others is important to me, especially within the African-American community because we are twice as likely as other ethnicities to have multiple myeloma. While receiving radiation therapy, I realized I had an opportunity to educate my community, so I wrote and published a book, Another Face of Multiple Myeloma.
While speaking at events for myeloma survivors, I met a fellow survivor. We partnered to start a website (myelomateam.com) and a podcast (Myeloma Team) in 2020 to help people with multiple myeloma live fuller, happier and healthier lives. We stress two very important things: do your homework and be your own best advocate.