Download Your Complete Guide Today!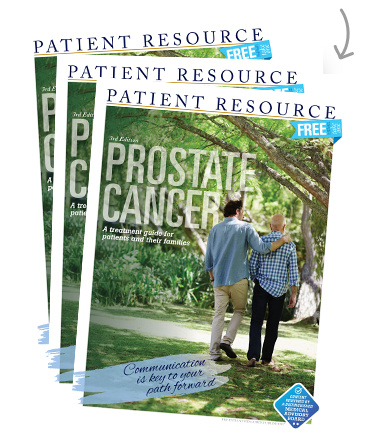 DOWNLOAD NOW
Prostate Cancer
For the Caregiver
A caregiver's support and dedicated efforts can make a cancer diagnosis more bearable. As you take on these and other responsibilities for caring for a loved one with prostate cancer, remember your hard work and support can make a world of difference. Following are some important things to keep in mind.

Sign appropriate forms. Be sure you are authorized to communicate with the health care team, access medical information, renew prescriptions and more. If you are unsure about the forms you may need to sign, ask a member of your health care team.
Attend medical appointments. It is difficult to remember everything that is discussed, and it helps to have a second set of ears. Keep a running list of questions to bring with you, and take notes. Always ask for an explanation about anything you don't understand. Don't wait for appointments if your questions or concerns are urgent. Contact the health care team by phone, email or through the patient portal. Telehealth options may allow you to join your loved one's appointment.
Track medications. Cancer medications are most effective when taken exactly as prescribed. Help your loved one stay on schedule with medications taken at home. Use a calendar, pill box or reminder tool.
Stay alert to physical and emotional changes. You will likely spend more time than anyone with your loved one, which means you may notice changes more easily than a doctor or nurse. Before treatment begins, find out which symptoms and side effects require a call to the doctor or emergency medical attention.
Encourage a healthy lifestyle. Following a nutritious diet, exercising appropriately, getting enough sleep and protecting against infection will benefit your loved one at any stage of disease. Ask the health care team for specific instructions.
Don't "over-help." Talk with your loved one about the type of help that is most needed. You may have the urge to do everything, but it is important to let your loved one maintain independence. Also, the level of care needed often changes throughout treatment, so pace yourself.
Be a good listener. Having prostate cancer can feel overwhelming. Simply listening when your loved one needs to talk is more helpful than you may realize.
Accept help. Create a list of things that can be delegated to others. If people offer to bring food, ask for healthy meals that can go in the freezer for when they are needed.
Take care of yourself. You will be more effective if you maintain your own health. Eat right, exercise, keep medical appointments and give yourself time off. Take advantage of family and friends offering help.