Download Your Complete Guide Today!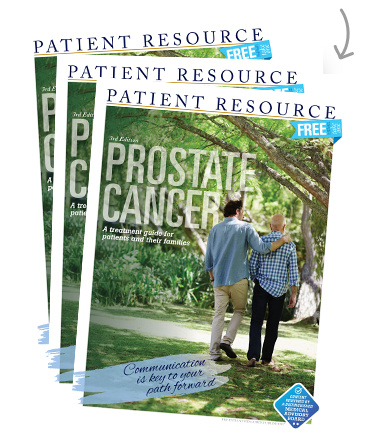 DOWNLOAD NOW
Prostate Cancer 
Living with Prostate Cancer
You and your doctor will work together to create a survivorship care plan. This means making your life goals known so they can be considered in the treatment planning process and beyond. The plan may include instructions for maintenance medications; referrals for cancer rehabilitation services, such as physical or occupational therapy; information about your risk of a recurrence or second cancer; and recommended screening guidelines for other types of cancer.
Your plan should also contain information about follow-up care. Whether you are still receiving treatment or have finished, you will continue to be monitored. The goal is to determine how the disease is responding to treatment or check for a relapse. Follow-up appointments also give you the opportunity to address any new symptoms or concerns. It is important to tell your doctor how you're feeling physically, mentally and emotionally at these appointments, or sooner if something changes, including:
New or ongoing pain that isn't adequately relieved
Changes in sexual health, including erectile dysfunction, body image and intimacy
Bowel problems or incontinence
Emotional issues such as depression, anxiety, fear or anger
Any visits to the emergency room, urgent care or other doctors
A Path to Healthy Living
Leading a well-balanced lifestyle may help you tolerate treatment better, lower the risk of a recurrence or the risk of other chronic diseases, help protect against secondary cancers and prevent bone loss.
Assess your bone health. Bone health is especially important for men who have had hormone therapy. These treatments come with a risk of weakening bones and osteoporosis. To monitor your treatment's effect on your bones, your doctor should order tests to establish a baseline for your bone health. The standard test is a bone density scan, which can find bone metastasis before symptoms occur.
Exercise and physical activity are effective for managing fatigue, maintaining a healthy weight, boosting muscle strength and endurance, and improving self-esteem. Weight-bearing exercise is also good for bone health and helps prevent bone loss.
Good nutrition gives your body essential nutrients to improve your health, better tolerate treatment-related side effects and help ward off additional illnesses.
Stop smoking to reduce your risk of a recurrence and to prevent the development of aggressive, high-grade prostate cancer. Ask your health care team about options to help you stop using tobacco.
Limit alcohol consumption. It can interfere with medications and may make you more tired if you're receiving radiation therapy.