Melanoma Survivor
Melanoma Survivor Paying it Back—and Forward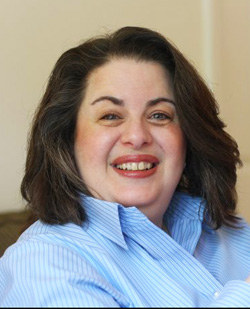 Jane Shapiro is a Stage IIIB melanoma survivor diagnosed in May 2007—which ironically is Melanoma Awareness Month. Jane works as a product manager for a media and market research company and sits on the Joanna M. Nicolay Melanoma Foundation (JMNMF) Board of Directors. Through the help of her doctors and with the support of her family, friends and co-workers, she has been disease-free for more than five years. Jane enjoys spending time with her family as well as reading, writing and watching movies.
Although I went to the dermatologist for skin cancer screenings once a year, the way I discovered my melanoma was completely accidental. I was brushing my hair one day when my hairbrush slipped and whacked the left side of my head, just above my ear. A mole I didn't know I had started bleeding and continued to seep for a few days, so I made an appointment with my dermatologist who immediately performed a biopsy. A week later I went back to the office to hear the results, and I was told that I had melanoma.
I freaked out and immediately called my brother, who helped me calm down. I chose to be a little more cautious about telling my mother because both my father and grandmother had passed away from melanoma. When I finally told her a week later, she insisted on coming with me to all of my appointments.
My dermatologist sent me to a surgical oncologist who performed a couple of tests, but we didn't click. That's when my boss put me in touch with a coworker who was the Secretary of JMNMF. Her father – the founding chairman – got me an appointment with a different surgical oncologist who was a much better fit.
I had two surgeries in June 2007. The first included an excision of the main site with wide margins, a skin graft from my abdomen to close it and a removal of three lymph nodes for a sentinel node biopsy. When one of the nodes came back positive, I had a modified radical dissection of the neck to remove 44 additional lymph nodes. I bounced back fairly quickly, and was back at work six weeks after the second surgery.
My surgical oncologist then referred me to a medical oncologist who recommended a one-year course of drug therapy. My decision wasn't immediate, but ultimately I decided to follow his recommendation because I needed to be able to look my family in the eye and know that I had done all I could to beat this. In September 2007, I began the therapy. The first month consisted of daily, high-dose infusions at a chemotherapy center, followed by 11 months of lower-dose injections, which I gave myself three times a week. During the treatment year, I also had monthly blood tests and quarterly PET and CT scans.
I relied heavily on my mother during the first month of treatment, during which I took off another four weeks from work, followed by two more weeks to work some of the Intron A out of my system and get back my strength. My bosses and co-workers were amazing. They gave me all the time I needed at home, and they allowed me to slowly return to full-time status. While I was home, they sent flowers, notes and dinners, and when I returned to the office, they put up with my fatigue and lousy memory, which are both side effects of this drug. Other side effects I experienced included flu-like symptoms, hair loss, dehydration, retinal hemorrhaging and permanent but superficial nerve damage in my face, neck, chest and shoulder.
My hair has since grown back and my memory has returned, and I haven't had any active treatment since 2008. When I finally felt well enough, I contacted JMNMF to see if there was something I could do to pay them back for recommending my surgical oncologist. They asked me if I'd like to join their Board of Directors – an offer that I happily accepted. Representing JMNMF, I've testified several times before both houses of the state legislature in an attempt to raise the minimum age for indoor tanning or ban it outright. I've also testified at an FDA hearing to support a proposal to reclassify tanning beds to a more serious category requiring more regulation. I find my work with JMNMF extremely gratifying because I feel like I'm helping others and paying it forward.
Although technically I'm a survivor and have moved on with my life, I still consider myself a patient to some degree and remain aware of what's going on with my body. I've had five biopsies since the end of my treatment, but they've all come back negative. I can't pinpoint exactly what caused my melanoma, but I will continue to do all I can to remain cancer-free. For me, it all comes down to doing what I have to do for myself and my family.