Melanoma Survivor
Triathlete Continues to Enjoy Success Long After Treatment
Tom Shinners is a triathlete who has competed in 23 IRONMAN events and numerous other triathlons. In 2001, Tom was diagnosed with Stage III melanoma but since completing his treatment has remained cancer-free. In 2013, at the age of 60, Tom qualified for his 15th IRONMAN World Championship in Kona, Hawaii, since 1993 and finished 37th in his age division.
When Tom retired at age 41 in 1994 from his Navy career, he was already a seasoned triathlete and chose a second career as a bicycle courier in Washington, D.C. After 20 years of couriering, he is now semi-retired and works at a bicycle shop. He and his wife, Leslie, also a triathlete, live in Alexandria, Va., and have two grown daughters.
Cancer showed up on my doorstep as an unwelcome visitor in 2001. I am red-haired, blue-eyed, spent considerable time in the sun—and should have known better. I had a freckle on the back of my left leg that had been there for a long time, but it had begun to change. That's the "good" part of melanoma – if you see a freckle change, that's a warning sign.
That spring I had an enlarged lymph node in my groin. It didn't impede my training or competing, and as a 48-year-old, I was having the best competitive year of my life—so I ignored it. I went to Hawaii and had my best race there ever, finishing seventh in my age group.
I had already reached the conclusion that I had skin cancer. Leslie had been after me to have the freckle looked at, but I hadn't told her about the lymph node. After Hawaii, I knew I needed to get this figured out.
I saw an oncologist who did a needle biopsy. The freckle tested positive for melanoma and they removed it. It had spread to the groin lymph node, and that was positive, as well as a swollen lymph node in my right armpit that was also discovered. I was diagnosed with Stage III melanoma.
The outlook wasn't the best. But I'm Irish and somewhat of a fatalist, so I thought if the Lord wanted to take me, He would take me. But the doctors never gave me a death sentence. They had hope and were willing to put me through their program. I knew I was in good hands and put my trust in science.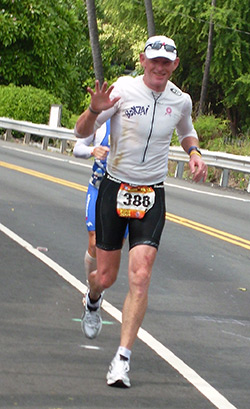 I had two surgeries to remove lymph nodes. Twenty-three were removed from my left leg and 50 were harvested from my right armpit. The good news was that only the original enlarged lymph node in the groin tested positive for melanoma and surprisingly, no melanoma was subsequently found from my armpit.
However, I wasn't out of the woods yet. My oncologists wanted me to enhance my chance of survival with drug therapy. It would be grueling, and I'd have flu symptoms and no energy for a year. The side effects could also include depression and suicidal thoughts.
It wasn't a pleasant year. I had therapy five days a week for a month at a clinic, followed by self-injections to my abdomen three times a week for 11 months. It left me lethargic and winded after a flight of stairs. I did no training at all.
At one point while watching TV, I found myself bawling like a baby, and I never cry. I figured if that was the worst depression I had, I was going to be fine. I also realized all the pain and trials of being a triathlete gave me a physical and mental perspective to endure.
I knew I needed to stay positive, and my wife was a big help. In September 2002, while in the midst of the treatment, she signed us up for the Lake Placid IRONMAN race in July 2003. She knew correctly that the goal of getting back on the bicycle would keep me looking forward.
The therapy ended in February, and I began to train again. I had no expectations whatsoever, but I was thrilled to finish third in my age division and qualify for Hawaii again. I felt like I was back to normal.
After staring down death and beating it in my 40s, I don't take life for granted. I also have no inhibitions about sending my friends to a dermatologist. Obviously, I highly value physical activity, and I like to think it helps keep the cancer at bay. You don't have to be a triathlete to do something. You can take a walk and go a little farther every day. Set up your own competition and be a winner.