Triple-Negative Breast Cancer Survivor
Trust in Medical Team is a Must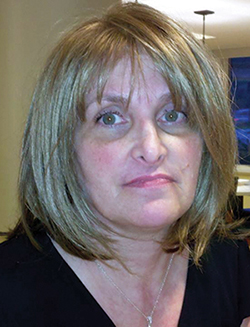 When Barbra Tugman recently uttered the words, "I never thought I'd see you again" to a mammogram machine in her doctor's office, she was only half-joking. After having DIEP flap reconstruction with stomach tissue following a triple negative breast cancer diagnosis and bilateral mastectomy, she didn't think a recurrence in her breast was possible, but her very thorough medical team was covering all the bases — just as they've done consistently since she was diagnosed in 2009. Fortunately, the pain she felt was not a recurrence, and she has been cancer-free for several years. Today, she is devoted to helping others going through cancer treatment.
My family history prompted me to have preventive mammograms every six months, and I'd been on that schedule for five years when I felt a lump deep in my left breast. I assumed it was another cyst, which was common for me, but it wasn't. At 57, I was diagnosed with invasive ductal carcinoma, Grade 3, Stage IIB triple negative breast cancer. Additionally, there was ductal carcinoma in situ, solid type, high nuclear grade.
I chose a hospital that was well-known for being on the forefront of cancer treatment. I wanted to be in a place that could give me lots of options, and I felt I'd get the best treatment possible there. I made a consultation appointment with an oncologist. I wanted to ensure we had a good rapport because, in my mind, she would be my doctor for the rest of my life. I was confident in my decision to work with her and her team.
I immediately went online to learn everything I could about breast cancer. My breast surgeon warned me not to get overwhelmed with the volume of information I'd find and recommended certain sites. This was educational and helped preserve my sanity.
My breast surgeon gave me three treatment options, and I had to make the final decision. I had a left mastectomy with a sentinel node biopsy and removal of lymph nodes. Because there was no lymphovascular invasion, I didn't need radiation but I had chemotherapy.
Chemotherapy was extremely difficult. I was at the ER weekly and was hospitalized for a variety of reasons, including dehydration, a heart issue from the chemotherapy and severe mucositis. I had some peripheral neuropathy, and I was nauseous for four months straight. My short-term memory was destroyed, which has been especially hard because I had a fabulous memory. My ex-husband called me "the human phonebook!"
I stayed at Hope Lodge during treatment, and the people I met there became lifelong friends. They, and the support groups I attended, were instrumental in my recovery. I also took advantage of the different programs that were free to cancer patients. I worked with a nutritionist (and still do). Physiologists taught exercise classes, and oncology-certified physical therapists offered a variety of classes, such as yoga and Reiki massage. There were even special yoga classes for people with neuropathy in their feet or who had to use a chair during class because they were post-op. The classes helped a lot, and I still like to attend them when I'm at the hospital.
Nine months later, I had a right mastectomy and bilateral DIEP flap reconstruction. I have been NED (no evidence of disease) for seven years, and I feel very lucky to have not had a recurrence.
After treatment and reconstruction, I'd panic if something didn't feel right. My oncologist never dismissed me and ran tests when they were warranted. I can't emphasize how important it is to have a team that you trust and that listens to you. I don't let those panicky feelings rule my life anymore, but I stay on top of my health. I recently had some pains in the area where I'd had the breast cancer, and even though a recurrence was unlikely since my DIEP flap reconstruction moved stomach tissue to my chest, my doctor checked me out thoroughly. I respect that.
I have some late effects. My lymphedema is well-controlled thanks to a lot of physical therapy and lymphatic massage. I still wear a compression sleeve at the gym and when I fly. I have an oncology cardiologist to monitor treatment-related effects on my heart. My neuropathy is bad, but I work with a pain management team at the hospital where I was treated. I'm currently getting lidocaine infusions. It's like a shorter version of chemotherapy, and I feel pain relief almost instantly that lasts for almost a month.
I was a medical assistant for 25 years, and I know the importance of giving back. The hospital where I was treated is too far to go to on a daily basis, so I volunteer five days a week at cancer hospitals closer to home. I'm also an American Cancer Society volunteer, and I manage the ACS wig bank. We offer free synthetic and real-hair wigs to cancer patients from any hospital, and I do all the wig fittings.
When I was in treatment, I attended the ACS Look Good, Feel Better program. I really wanted to be a part of that program, so now I host it at three different hospitals. I feel honored to have won the Look Good, Feel Better 2016 Volunteer Host of the Year award for Massachusetts. I was asked to make an informal speech when I received the award. I surprised many of the people there by beginning with "As a cancer patient myself…." Now they know it's possible to take an incredibly negative situation and turn it into a positive one.