Breast Cancer Survivor
The Show Must Go On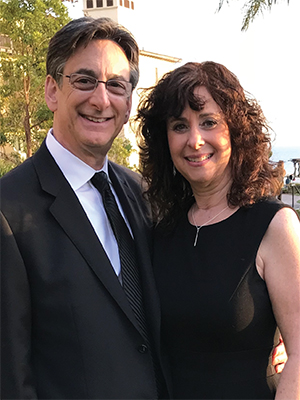 For Carolyn Braverman, 2011 began in a wonderful way then quickly took a turn. After getting married and starting a new job, she unfortunately lost her mother and was then diagnosed with adenocarcinoma of the breast. Carolyn credits her physical and emotional recoveries to top-notch medical care and an amazing support system.
When something suspicious appeared on my routine mammogram in 2011 and I was asked to stick around for an ultrasound, I admit, I was a little freaked out. I was nervous, and the technician wouldn't answer any of my questions. Finally, the radiologist told me something was seen in my right breast and I'd need to schedule a biopsy. A wave of fear and anxiety came over me. I was there alone because it was a routine appointment, so I called my boss to say I wouldn't be back that day then called my husband.
A week later, I had a biopsy. I was face down on a table with my breasts hanging down. The mammogram technician appeared next to me and asked if I wanted her to hold my hand. "Yes, please," I said, and she explained everything that was happening. I don't remember much of it and don't remember any pain at all, and I'm sure it was because she was distracting me.
I received the diagnosis when I met my oncologist for the first time. She told me it was adenocarcinoma, not even a Stage I, and we'd caught it early. With a lumpectomy or a mastectomy, the cure rate was 98 percent. That reassured me, as did finding out I didn't carry the BRCA gene. But just knowing the cancer was in there made me anxious. I was in a pretty fragile emotional state anyway. I'd just gotten married in January and started a new job in February. My mother passed away at the beginning of March, and I was diagnosed in late March. I couldn't sleep, I was depressed, and I became scared of everything. I just wanted it out.
The next step was to meet with the breast surgeon and nurse navigator. I felt extremely comfortable with both of them immediately. The tumor was deep inside my chest cavity (which explained why I never felt it), and they explained my surgical options. The surgeon recommended a lumpectomy to remove the lump and check to see if cancer had spread to any nearby lymph nodes. Because a mastectomy was also a possibility, I met with a reconstructive surgeon. I saw photos of reconstructions and my options and didn't feel comfortable at all going that route. I scheduled a lumpectomy for April.
On the day of my surgery, my husband, daughter and father stood at the foot of my bed as my surgeon told us the plan. If everything looked all right during surgery, she'd send me home the same day. If not, I'd likely have to stay. She removed the lump and three lymph nodes, and sent them off to pathology. I was able to go home. I was so happy. It was a good sign.
I'm a choreographer and a dancer, and I'd been cast in a show that was opening in July. A week after my surgery, I went to the first rehearsal. I was supposed to be taking it easy, but not doing the show would have been like giving up. My surgeon and nurse navigator said if I felt good enough to do it, then do it. I did, even through the 33 radiation treatments that started at the end of May. I had radiation Monday through Friday for six weeks. I was tired, but not so fatigued that I'd miss the show. And, honestly, it kept my world going. My mom was a performer, too, and I needed to keep the music alive for both of us.
My surgeon and nurse navigator came to one of my performances. They came backstage, and we took a photo. My surgeon framed it for her office to show other breast cancer patients what is possible.
During treatment, I was surrounded by support. I refer to my breast surgeon, my nurse navigator and my mammogram tech as my angels. They saved my life, and they are in my heart and soul. My father, a retired physician and truly a special presence, knew just how to talk me down when I panicked, and my husband didn't leave my side. He was my shoulder to cry on. Whatever I needed, he did it for me. I also talked with a mentor. She was 74 years old and had been a survivor for 15 years. She let me vent and ask questions. She gave me hope and reminded me there is a light at the end of the tunnel.
I'm currently on maintenance therapy. It's common to stop after five years, but as long as I continue to have tests annually to monitor my bone density, my doctor said we'll consider stopping at 10 years. I manage the breast pain that is a side effect of the maintenance drug, which is really ironic, but I actually prefer to be on it because it makes me feel like I'm doing something to prevent a recurrence.
I also perform regular breast self-exams, and I have two 3-D mammograms a year. The technicians in the office where I go read the scans of the breast cancer survivors right away, which helps ease the tension.
As scared and anxious as I was, my support system helped me through it. Find your own angels, and surround yourself with people who love you.