Breast Cancer Survivor
Rock Icon's Musical Talent Shines Through Cancer Journey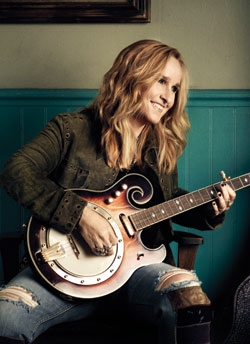 Melissa Etheridge has been recognized and loved for her honest, soulful songwriting and earthy, raw vocals. Her successful career has included 12 studio albums (a number of which are multiplatinum), 15 GRAMMY nominations, two GRAMMY awards, an Academy Award, ASCAP songwriter of the year and a star on the Hollywood Walk of Fame. She found that her outlook on life dramatically changed; however, when she was diagnosed with breast cancer in 2004. Recognized as an outspoken cultural, political, human and gay rights activist, Melissa now adds cancer advocate to her list of causes. As a mom of two teenagers and twins, she also speaks compellingly about the vital importance of maintaining good health – not exactly the routine message of a rock star.
When Melissa Etheridge walked out to sing at the 47th GRAMMY awards in 2005, she had no idea that she would quickly become more than just one of the all-time favorite American female rock icons. Melissa's courageous, high-powered performance of the Janis Joplin hit "Piece of My Heart" would cement her popularity with her fans but would also propel her to a new status among cancer survivors.
Melissa was diagnosed with breast cancer in the fall of 2004 and completed her chemotherapy regimen in the winter of 2005. Although her stamina was down due to three months of treatment, she welcomed the opportunity to appear on one of music's biggest stages. Well-known for her blond tresses, the two-time GRAMMY winner even made the decision to proudly perform with a bald head.
"The GRAMMY's were a possibility for me to get back on the horse and ride," she said. "It was a chance for me to say, 'This is what I've been going through and this is where I'm at.' I did not want to be seen as a victim. There was nothing to be ashamed of. There was nothing to be kept secret. About half of us are going through this now—so let's start talking about it."
Melissa's music career was in high gear in 2004. After a decade and a half of multi-platinum albums and touring, she had just released her eighth album, "Lucky." She was on the road performing that fall when she discovered a fast-growing lump in her breast. Having lost her father and grandmother to cancer, she cut short her concert tour and quickly returned home to Los Angeles to be examined.
"For someone who has been very driven in life, the news was Instant Freeze Tag," she explained. "At the time I thought, 'Cancer, I don't have time for cancer.' But things move seriously fast – and yet it also feels like everything slows down. You have tests done and then the hardest part is waiting for the results."
In the midst of the whirlwind of tests, she credits a thoughtful ultrasound technician for helping her to cope with the difficult news of a cancer diagnosis. The tech had worked with Melissa and her partner during the pregnancy and birth of her first two children, and she was a five-year breast cancer survivor herself.
"She was so key to my experience," Melissa said. "She told me, 'Melissa, I have been in this business for a long time and I can be fairly certain what this is. Listen, no matter what it is, you will be fine.' At the moment you are diagnosed, how you respond to your own fears will create your experience with your journey. I am so grateful to her. She set me on a path where I knew I wasn't going to drop in a big hole."
Melissa was diagnosed with early-stage breast cancer. Her treatment included a lumpectomy, surgical removal of 15 lymph nodes, radiation and chemotherapy. She experienced a number of side effects, including hair loss, extreme nausea and fatigue. Melissa found tremendous relief through something as simple as drinking lemon water. Additionally, she altered her diet to include less acidic foods by incorporating more fruits and vegetables – specifically root vegetables – and by regularly eating plain, cooked potatoes.
This began a new focus on nutrition and overall improved health. "Having cancer helped me understand my body," she said. "And going through chemotherapy is what really focused me on health in general. Instead of looking at our bodies as things that are broken or have something wrong with them, I wanted to keep on the healthy side more than ever. I had to make different choices about my health, and it's now a priority in my management camp. I know that every day my health is my responsibility: what I eat, my stress level and all that I am experiencing in my life. It's critical to make sure I am healthy and here for my children, for my loved ones and for myself. What else is more important?"
After she completed her treatment regimen, Melissa was cancer-free. Going forward, her outlook on health and nutrition had changed, and she also had the opportunity to use her talent to encourage cancer survivors everywhere. The Ford Motor Company approached her about joining them in its long-standing support of breast cancer research and awareness. In response, she wrote, recorded and performed the song, "I Run for Life," a song that cancer survivors around the world have embraced as an anthem.
"The Ford Company asked if I would write a song for them. I was so honored by that. It was a great way for me to tell my experience, put it in a song and say, 'I get it,'" she explained. "There's not a show where cancer survivors don't show up, and I have had more amazing moments when I play that song. Hopefully, I've contributed to the world, and that means a lot to me."