Breast Cancer Survivor
Out of Darkness, New Life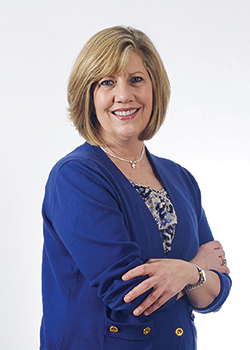 Having cancer was the last thing on Malleson Emmerling's mind in the fall of 2012. She was already dealing with the devastating loss of her mother that summer and her husband leaving their marriage. Discovering that she had breast cancer through a routine mammogram was shocking. She found support through her father and her church. Today, she leads a full life with her two daughters.
2012 was one of my most memorable years, but not in a good way. I lost my mom to colon cancer that summer. In October, my husband left me for another woman. Two weeks later, I was scheduled for my annual mammogram. I almost blew it off, but I made myself go. I had been religious about having an annual mammogram because I had endometriosis in the past, and I have dense breast tissue.
Everything happened very quickly. After the mammogram, the technician stepped out of the room to talk to the radiologist, who ordered a sonogram. After the sonogram, the radiologist walked into the room and said I had cancer. He had already called my primary care doctor and set up an appointment for me at 2 p.m. that afternoon. I was in complete shock and bewilderment. I thought this was the cruelest trick God could ever play on me.
My primary care doctor scheduled a biopsy for the next day. The results came back about 10 days later and confirmed I had Stage II invasive lobular carcinoma breast cancer that was ER+/PR+ and HER2-. The tumor was found in my right breast and measured 2.5 x 2 x 2.1 cm. I had BRCA testing but found I did not have the mutation. According to the doctors, my breast cancer was not the result of my genetics.
I was a stay-at-home mom for about 15 years and had recently gone back into the workforce that school year as a para for children with special needs in the local school district. After the diagnosis, I quit my job. I didn't think I could handle treatment and the job, especially since I didn't have my mom to talk to and I was now a single mother preparing for cancer treatment.
In December, I had a bilateral mastectomy and a hysterectomy at the same time. The surgeon also removed lymph nodes in my upper right arm area and found that the cancer had spread there as well. The surgeon put in temporary expanders to form the pec muscle that would help hold in the breast implants I would get a few months later.
After surgery, I was told I would need chemotherapy and radiation. In January 2013, I started chemotherapy. Later, I did five weeks of radiation that ended in August 2013. In April, I had surgery to remove the expanders and add in the implants. My dad, who had been my mother's caretaker throughout her colon cancer, drove seven hours from his home to be my caretaker and drive me to my appointments.
The treatments brought on several different side effects and long-term effects. I lost my hair, but I got three wigs. My two young daughters and I named all three wigs to stay positive. I also struggled with constipation. Any time I had surgery, it took a while to get my gastrointestinal tract working again. It's still a challenge because my GI doctor told me the chemotherapy damaged the nerves in my GI tract. I will have to take medicine the rest of my life to help with that.
Another side effect is that the skin across the top of my chest feels tight. I am constantly aware of that upper area now. My skin in that area had shrunk from the radiation, which caused the skin to become thinner. It became so thin that my implant was almost about to come through my skin. As a result, I had to have a third surgery to repair it. I had fat from my stomach removed and added to my chest, but not all of the fat absorbs into the skin.
One of the ways I was able to cope with the situation was through writing. I started writing about my experiences through CaringBridge. It became my outlet, which led to starting my own blog. But one of the best tools I found was through the CareCalendar app, which allowed me to set up meal planning, ask for prayers and get help with the house without just relying on my friends and family. I recommend this site to others going through cancer. It's a win-win for everyone.
Don't ever neglect getting your mammogram. Let other people help you even though it may be hard to accept. You can't do it all on your own. Find other women and/or breast cancer survivors to talk to. Sometimes, husbands cannot relate to this type of cancer. If you can, open yourself up to what's going on and allow your life to happen. You can grow personally and spiritually.
Although going through cancer was very difficult, I look back and wouldn't change a thing. I relied heavily on my church, which was my godsend, and my faith, which was my rock throughout everything. God showed up in my life. I saw God's hand in every inch of my life. I started trusting and He made himself known to me. I knew He would give me the strength to get through it.